Australian CP Suppliers
Below are listed some Carnivorous Plant suppliers within Australia. Suppliers are listed by state, however, most offer interstate sales via mail/online ordering. If you want to buy Drosera,Sarracenia,Cephalotus,Nepenthes,Darlingtonia,Byblis,Pinguicula,Utricularia and more this is the right page for you. This suppliers list is by no means complete and no endorsement of these nurseries by the VCPS is expressed or implied. If you are a supplier and wish to be added to this list, please
email us
with details. All phone numbers listed are Australian numbers. If ringing from overseas, include the Australian country code (61) and omit the '0' at the start of the number.
VICTORIA
Collectors Corner (part of Garden World complex)
Springvale Road
Keysborough Vic 3173
Tel: (03) 9798 5845
A retail nursery selling a range of carnivorous plants orchids cacti and other specialist plants, as well as books
---
Flora laboratories
(Andre Cleghorn)
Sells a variety of tissue cultured carnivorous plants, orchids and bromeliads in flask. Offers flasking services and supplies the Keikigrow range of products
---
Triffid Park
email
A large nursery selling a wide range of most carnivorous plant genera, as well as media supplies and books. Mail order sales to Australia and overseas.
---
Tropical Traps
(Peter Anderson)
PO Box 739
Eltham Vic 3095
Tel: (03) 9431 1253
Nepenthes a specialty
---
Wolf's Carnivorous Plants
(Wolfgang Fuhrmann)
Launching Place, Vic
email
A small, boutique grower of Sarracenia, majority grown from seed
Sales by appointment or see us at Ferntree Gully Market on Saturdays.
NEW SOUTH WALES
Captive Exotics
(Greg Bourke)
PO Box 3049,
Bilpin, NSW 2758
email
Well known and respected Nepenthes nursery, now owned by renowned Australian CP expert and author Greg Bourke
---
Little Pot of Horrors
(David Colbourn)
Jamisontown, NSW
email
Sells seed and plants of a variety of carnivorous plant genera.
---
Newneps
(Brendon & Penny Newbold)
Lismore, NSW
Specialising in Nepenthes species and hybrids, sourced both locally and internationally. An Australian distributor for Borneo Exotics (Robert Cantley).
---
Pitcher Plant Fever
email
Importing rare Nepenthes species to the Australian public
QUEENSLAND
Exotica Plants
(Geoff and Andrea Mansell)
CMB Cordalba
via Childers QLD 4660
Tel/Fax: (07) 4126 6434
email
Specializing in Nepenthes and Heliamphora
WESTERN AUSTRALIA
Primal Plants
(Darren O'Brien)
PO Box 3018,
Lesmurdie, WA 6076
email
Sells a variety of carnivorous plants, inluding rare and difficult to acquire taxa, with a strong focus on Nepenthes.
---
Allen Lowrie
6 Glenn Place
Duncraig WA 6023
Tel: (08) 9447 7426
Fax: (08) 9246 9335


--> Carnivorous plants are also often sold at
VCPS meetings
and always at the
VCPS annual show.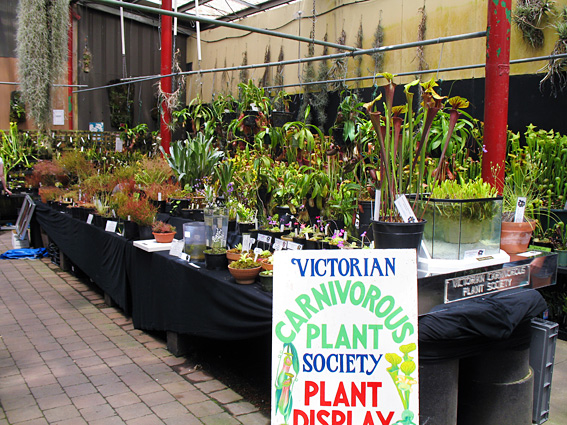 ---
You might also want to try the
VCPS seedbank